From October 12 to 13, Prof. Yu Zhigang, President of OUC, visited Nelson Mandela University (NMU) in South Africa, together with representatives from OUC's Division of Science and Technology, Social Science Administration Office, and International Office. Prof. Sibongile Muthwa, President of NMU, and Prof. Azwindini Mungwakhe, Vice President of NMU, met with the delegation.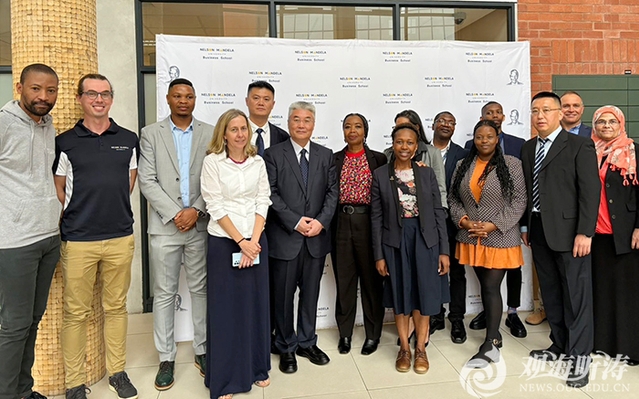 Prof. Yu Zhigang stated that this year marks the 25th anniversary of the establishment of diplomatic relations between China and South Africa. Since the establishment of diplomatic ties, especially with the introduction of initiatives such as the Belt and Road and the Forum on China-Africa Cooperation, the two countries have ushered in a "golden era" of cooperation. He hopes that the two universities could identify areas of cooperation and engage in practical collaboration.
Prof. Sibongile Muthwa said that the growing China-Africa cooperation plays a significant role in maintaining global peace, stability, and sustainable development. The prospects for collaboration between the two universities are broad, and the visit by the OUC delegation is timely and meaningful.
The delegation visited the Ocean Science Campus of NMU and held discussions with relevant leaders and teachers, to explore possibilities of cooperation in marine energy, fisheries and aquaculture, coastal zone management, polar research, marine spatial planning, and maritime law.