On June 29th, Ambassador Peter Thomson, the United Nations Secretary General's Special Envoy for the Ocean, visited Ocean University of China, where he was received by President Yu Zhigang and Vice President Liu Yong. They held a discussion on promoting global ocean sustainable development.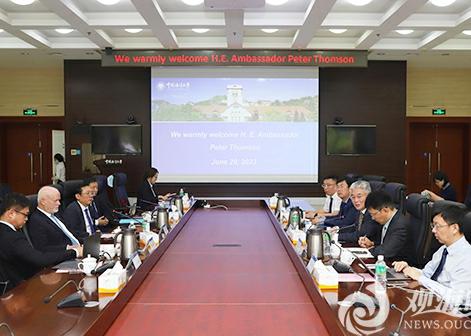 President Yu introduced the university's academic strengths and the International Association of Marine-related Institutions (IAMRI). He said that the ocean connects the world, and understanding and protecting the ocean while promoting its sustainable development is a shared responsibility of humanity. To promote global ocean sustainable development, the university has been actively engaged in areas such as coastal zone ecological environment protection and restoration, marine biodiversity conservation, aquaculture and fisheries science, environmental protection technologies and standards for deep-sea mineral resource exploitation, marine clean energy, digital and intelligent ocean, and capacity building in marine science and education for developing countries. The university has made contributions to the building of a maritime community with a shared future.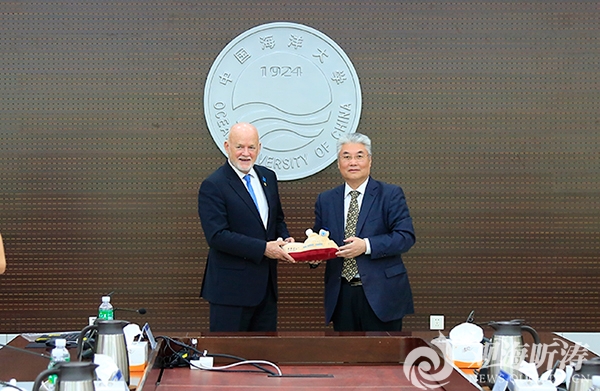 Ambassador Thomson stated that the government, scientific community, and private sector are the three pillars for achieving Sustainable Development Goal 14 of the United Nations, which aims to conserve and sustainably use the ocean and its resources. The active participation of research institutions is crucial for the realization of the SDGs. Qingdao has been actively involved in the United Nations Decade of Ocean Science for Sustainable Development, and he suggested that Qingdao and OUC participate in the special event on ocean science at the 2025 United Nations Ocean Conference in Nice. He emphasized that the goals of the United Nations 2030 Agenda for Sustainable Development and the United Nations Decade of Ocean Science can only be achieved when China plays a leading role.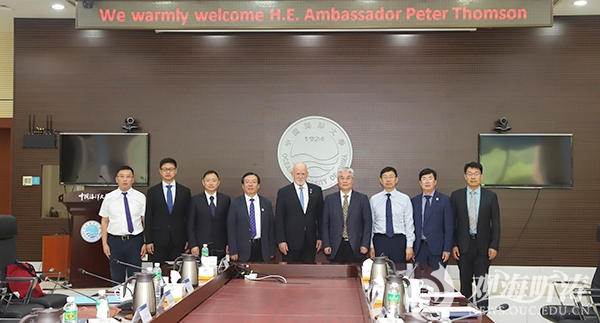 In the afternoon of the 29th, Ambassador Thomson delivered a lecture titled "Achieving a Healthy Ocean through International Cooperation" at OUC. He introduced the current issues concerning ocean health and pointed out that recent ocean actions have brought great hope for the realization of SDG 14. He acknowledged the attention that OUC has paid to the fields of marine science and sustainable blue economic development. He expressed his hope to see more people from OUC, especially the younger generation, working together to protect and sustainably use marine resources. The lecture was attended by nearly 500 students and faculty members.