On November 20, the 2022 China-ASEAN International Forum on "Sustainable Development of Fisheries and Aquaculture under the Blue Transformation Strategy" convened. The Forum, held both online and offline, was well attended by many government officials, scholars, and industry leaders from the National Administration of Fisheries and Aquaculture (Chinese Ministry of Agriculture and Rural Affairs), National Aquatic Technology Extension Center (China Society of Fisheries), Shandong Provincial Department of Agriculture and Rural Affairs, ASEAN-FEN, China-ASEAN Business Council, and China Aquatic Products Processing and Marketing Alliance.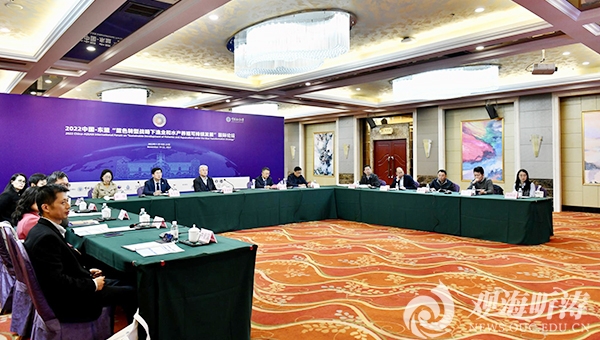 President YU congratulated on the successful opening of the event, and extended his welcome to all participants. He remarked that as the largest and the most active trading partner to each other, China and ASEAN could use fisheries and aquaculture as a springboard for more cooperation. Moreover, both sides are important to the implementation of FAO's Blue Transformation Strategy. By continuously exercising its advantages in marine and aquaculture studies, OUC would deepen its ties with ASEAN partners, and build a model for international cooperation in higher education, joint R&D and synergized industry development. His remarks resonated with the other opening ceremony speakers, who agreed that instead of shying away from their social responsibility to achieve the Blue Transformation, the two sides should join hands to create a fisheries community that sustainably benefits each other.
The three-day Forum set up three sessions under separate themes: "International Talent Training", "Science and Technology Innovation", and "Industrial Synergies". 40 well-known aquaculture experts from China and ASEAN shared their insights on ways to achieve the Blue Transformation, theoretical and technological updates in fisheries and aquaculture sustainability, talent demand and supply within the sector, as well as how to create a fair and just policy environment.
Hosted by OUC, the Forum came as a response to FAO's Blue Transformation Strategy and China's 21st Century Maritime Silk Road initiative. It was well responded by another 13 Chinese and ASEAN partners. The Forum also provided a platform for people from the industry, universities and research institutes to discuss how to implement the FAO strategy and improve aquaculture capability, in order to achieve the UN Sustainable Development Goals. Undoubtedly, the Forum would be of great importance to improve the talent pipeline development, sustain fishing resources, enhance aquaculture products processing and security, and promote technological innovations in fisheries management.
Prof. LI Qi, Dean of OUC Fisheries College, presided over the Forum's opening ceremony. The event attracted an online audience of over 3,000 people, including officials, scholars and business leaders from China, ASEAN and international organizations.