On February 26, a delegation led by Liu Zhanjiang, Vice President of Syracuse University, visited Ocean University of China (OUC). President Yu Zhigang received the guests, and the two sides engaged in a discussion about strengthening the in-depth cooperation between the two universities.

After extending a warm welcome to the delegation, President Yu reviewed OUC's progress in its effort of becoming a world-class university and building top-tier academic programs. He also remarked on the construction of OUC's campus on Qingdao's west coast and its future plans.
Looking back on the exchanges and cooperation between OUC and Syracuse, President Yu fully acknowledged the achievements in joint education and academic exchanges. He expressed his gratitude to Vice President Liu for his unceasing effort in promoting the friendly and substantive cooperation. He proposed that the two universities could boost the cooperation in the fields of public administration and information and big data, thus enhancing common development and friendly exchanges.
Vice President Liu spoke highly of OUC's development, and gave an overview of Syracuse University. After sharing his insights on international cooperation in the post-pandemic era, Liu hoped to deepen the mutually beneficial cooperation with OUC in joint education programs and collaborative research, and expressed his expectations for the promising prospects of deepening relations with OUC.
Liu also delivered an academic report entitled "Research of disease resistance against enteric septicemia of catfish" to the faculty and students at OUC.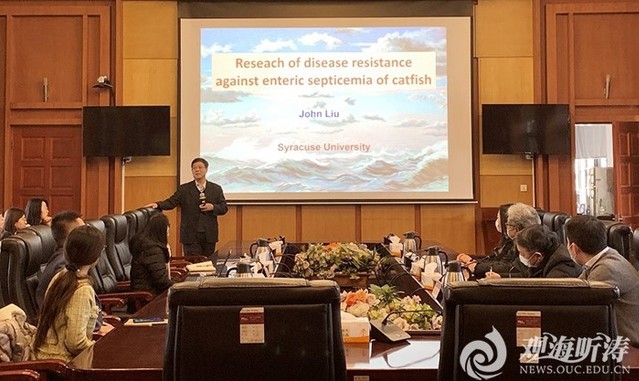 Translated by Wang Yaqi
Edited by Yu Hong
Photo by OUC News Center