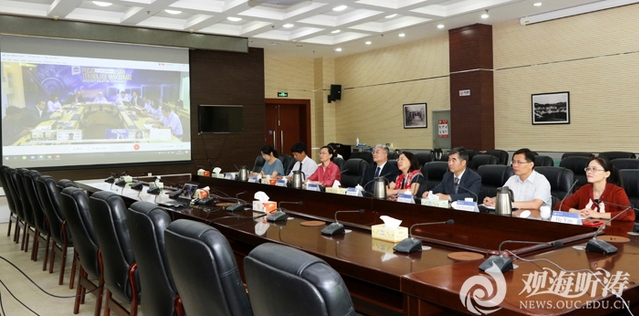 On September 9, the OUC-UMT Joint Ocean Research Center hosted the Webinar on Marine Studies. President Yu Zhigang of Ocean University of China (OUC), Vice Chancellor Noraieni of the University of Malaysia, Terengganu (UMT) and heads of the international offices of the two universities attended the opening ceremony. Also in attendance were Prof. Wang Min and Prof. Yeong Yik Sung, directors of the center, and scholars in marine-related fields.

President Yu reviewed his visit to UMT for the inauguration of the joint center in 2019, and extended his congratulations on the convening of the webinar. He said that OUC highly values the substantive and effective cooperation with UMT, and the outbreak of COVID-19 has made it even more important for us to work together closely. The development of the center will not only deepen the cooperation between the two universities, but also contribute to the extensive cooperation in marine education and technology between the two countries. He hoped that the center would become one of the many success stories of the Belt & Road Initiative and an important platform for international exchanges and cooperation.
Vice Chancellor Noraieni talked of the two university's achievements in faculty and student exchange and joint research in the five years since the establishment of cooperative relationship. She said that the pandemic cannot stop the cooperation between the two sides. As a multi-disciplinary international cooperation platform, the center will draw support from all parties, so as to play an important role in research and talent cultivation, and to make due contributions to the development of the two universities and the friendship between the two countries. Vice Chancellor Noraieni also attended the conference as an expert.
During the meeting, eight scholars delivered reports on marine science, polar expedition, genetics and coastal zone management. They also had in-depth discussions on the next steps of cooperation and reached consensuses in many areas.
This was the second seminar held by the center since its establishment in October 2019. Due to the pandemic, it was held online for the first time. The success of the webinar further promoted the exchanges and cooperation between OUC and Malaysian universities and research institutes, and facilitated the advancement of interdisciplinary research in marine-related fields.