On Oct. 12, the 6th "Mengfanji Cup" International Innovation and Entrepreneurship Contest for College Students concluded in Guangzhou. The team of "PULULU Bubbling Water" led by students from Ocean University of China (OUC) came top as the "Best Entrepreneurship Team", in competition with nine other teams, including those from China Agricultural University, Zhejiang University and Shanghai Jiaotong University.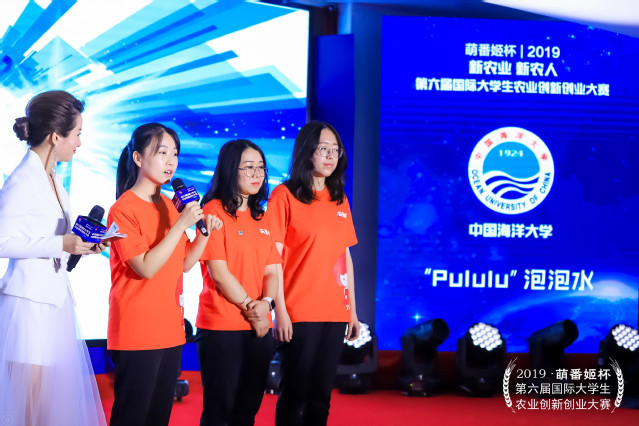 This contest was hosted by China Association of Productivity Promotion Centers under the guidance of China's Ministry of Agriculture and Rural Affairs, and sponsored by Zhongkai University of Agriculture and Engineering and Yishitongyuan. A total of 89 projects, covering high-tech agriculture, environmentally friendly agriculture and food innovation, from 26 domestic universities participated in the contest. Ten teams were shortlisted for the final round.

The OUC Team was organized by Wang Peng, Associate Professor of OUC's College of Food Science and Engineering. Members of the team include Zhang Bei, Li Chenman, Zhang Chenming, Zhang Wen, Li Siqi and Jin Zhenhui, undergraduate and master's students from programs of food science and engineering, marine resources development technology and tourism management. After adequate study on the feasibility of the market, experiment and technology, the team successfully developed a sea salt-flavored bubble solid drink, based on the technology of effervescent tablet. With quality calcium from marine sources added to the drink, it helps people alleviate symptoms of fatigue after working out.

The winning of the contest demonstrates OUC's emphasis on the education of entrepreneurship and innovation, and boosts the students' confidence. It is of special significance to OUC, as it gathers momentum to become a world-class university.