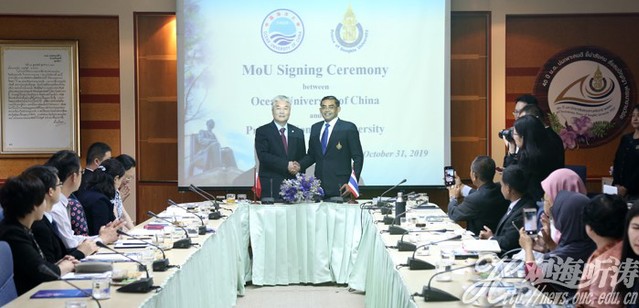 From October 30 to November 1, 2019, President Yu Zhigang of Ocean University of China (OUC), led a delegation to the Prince of Songkla University (PSU) of Thailand and signed a MoU with PSU, a new partner from an ASEAN country.
PSU President Niwat Keawpradub briefly introduced the university and stressed that PSU is located on the south coast of Thailand with rich aquatic germplasm resources. PSU is strong in marine-related disciplines such as aquaculture, biodiversity and pharmacy, which are also key research fields of Thailand. Since the China-ASEAN FEN President Forum held by OUC in 2017, the two sides have been engaged in exchanges. The signing of MoU will greatly promote substantive cooperation and provide more opportunities for faculty and students of both universities.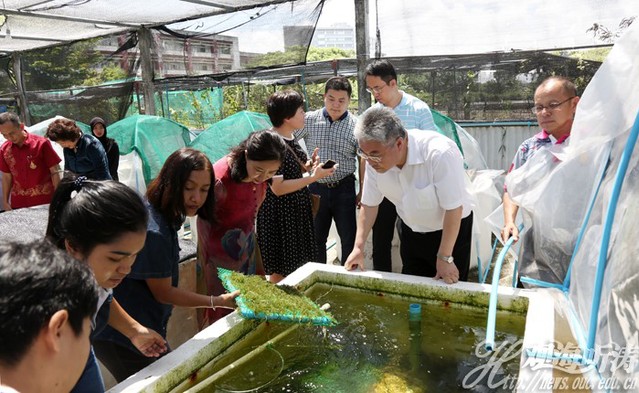 President Yu pointed out that the two universities share common strengths in such fields as fisheries and could conduct more cooperation in aquatic and biological sciences, food science and marine drugs. He introduced the cooperation between OUC and other universities in ASEAN countries, particularly the Sino-Thai Academic Center for Marine and Fishery Sciences with Kasetsart University, and the UMT-OUC Joint Academic Center for Marine Studies with the Universiti Malaysia Terengganu. Experiences of these platforms could be drawn to deepen cooperation and build new platforms with PSU.

The delegation also visited the campus and the laboratories of the Faculty of Agro-Industry, as well as the Aquatic Technology Center and the Incubation Base. The delegation members were impressed by PSU's transformation of research results and its contribution to regional economic and social development.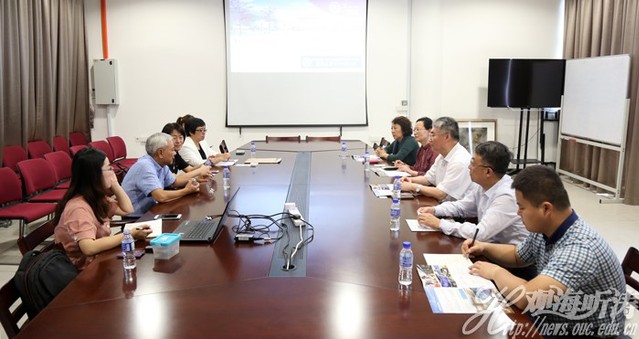 The delegation visited Xiamen University Malaysia (XMUM) in Kuala Lumpur. XMUM has admitted more than 5000 students since 2016. It boasts various advantages such as flat management and diverse campus culture. It also faces multiple challenges. President Yu spoke highly of the overall planning, rapid development and innovative operation method of XMUM, especially its targeted professional training of students in the marine discipline based on the needs of local economic and social development. OUC can learn from the experience of XMUM.