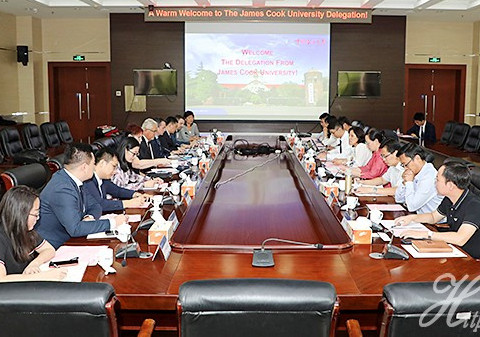 On September 20, a delegation from James Cook University (JCU) led by Deputy Vice Chancellor Marcus Lane visited Ocean University of China(OUC). OUC's Vice President Yan Ju received the guests on Laoshan campus.
Vice President Yan said that James Cook University is one of Australia's top research universities, enjoying a high international reputation. As the founding members of the International Alliance of Marine-related Institutions (IAMRI), the two universities have broad cooperation space in marine science, geoscience, life science and information science. She also expressed the hope that the two universities could explore more fields of common interest and deepen cooperation through this meeting.
Deputy Vice Chancellor Marcus Lane spoke highly of OUC's research in marine biology, aquaculture and other disciplines. JCU attaches great importance to global cooperation and would like to cooperate more with universities in East Asia. He also expressed the hope that the two universities could establish long-term and solid cooperation.
The delegation discussed research projects with researchers from the College of Information Science and Engineering, the College of Marine Life Sciences and the College of Fisheries.