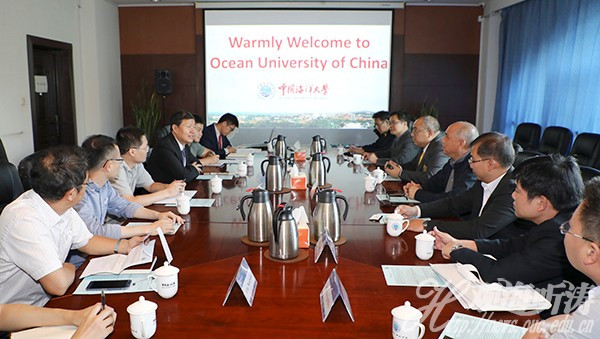 On September 19, a delegation from Kasetsart University (KU) led by Vice President Chatchapol Chungchoo visited Ocean University of China (OUC). OUC's Vice President Li Huajun received the guests on Laoshan campus, and the two sides engaged in discussions about cooperation in engineering and material sciences.
Vice President Li reviewed the history of cooperation between the two universities and introduced OUC's progress in becoming a world-class university, its international cooperation and the cooperation with universities in ASEAN countries participating in the Belt and Road Initiative. He spoke highly of the achievements of Sino-Thai Academic Center for Marine and Fishery Sciences co-established by the two universities and expressed hope to further cooperation to other fields.
Vice President Chatchapol Chungchoo introduced the key disciplines at KU, such as engineering, materials science and information sciences. He hopes to have further cooperation with OUC and achieve new results on the basis of the existing relationship.
During the meeting, Prof. Liu Wei, Associate Dean of the School of Materials Science and Engineering, introduced the overall information of the school. Prof. Fu Yubin introduced the latest research outcomes of new marine energy and new technology of power supply. Prof. Sathaporn Chuepemg, Dean of the College of Engineering at KU, introduced the college's research and talent cultivation. The two sides discussed possibilities of further joint research and exchanges of faculty and students.