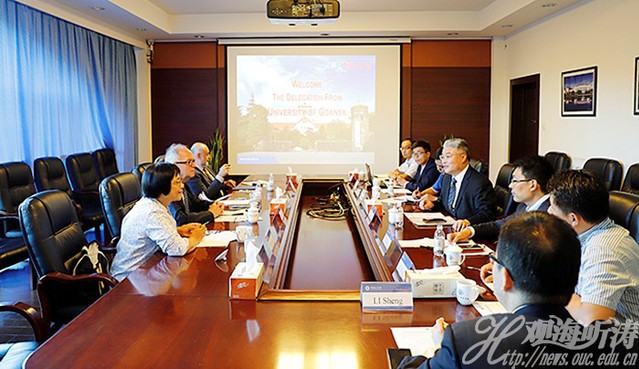 On September 9, Professor Jerzy Piotr Gwizdala, Rector of the University of Gdańsk (UG), visited Ocean University of China (OUC). OUC's President Yu Zhigang received the guests on Laoshan Campus.
President Yu reviewed his visit to UG last year and the cooperation progress between the two sides since then. He said that the University of Gdańsk is a comprehensive university with ocean sciences as its strength. The two universities share similar advantages and have broad prospects for cooperation in ocean sciences, environment, physics, chemistry, biology, law and economy. The two sides could reach further cooperation through mutual visits and further exchanges, such as faculty exchanges, joint education of students and joint application of research projects.
Rector Jerzy Piotr Gwizdala introduced the latest progress of UG and its cooperation with universities in the European Union. He said that UG is the largest university in Northern Poland, whose 11 colleges have their own characteristics and advantages. The university is undergoing an important stage of the transformation towards a research university. He expected to see further cooperation with OUC in the exchange of faculty and joint education of students. He formally invited President Yu to attend the 50th anniversary of UG next year.