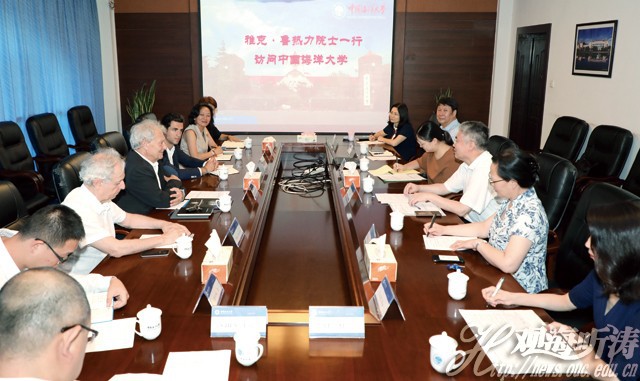 On August 28, 2019, a delegation led by Jacques Rougerie, member of the French Academy of Fine Arts, and Didier BERNHEIM, corresponding member of the academy, visited Ocean University of China (OUC). President Yu Zhigang and Assistant President Yu Li, who is in charge of the construction of OUC's new campus in the West Coast New Area, received the guests.
President Yu Zhigang expressed his expectation that Academician Jacques Rougerie and his team could participate in the planning and design of OUC's new campus and provide constructive suggestions. He pointed out that the new campus should combine aesthetic beauty with practical functions, and that the design should be carried out in a creative but "cautious" way, so that the ultimate construction could be best accepted by the society and honor principles of environmental friendliness. The two sides could consider the following three options as the next step of cooperation. First, cooperation with the Jacques Rougerie Foundation could be strengthened by selecting excellent works from OUC's Marine Culture Creation and Design Competition to participate in the International Competition in Architecture hosted by the Jacques Rougerie Foundation, and by co-hosting an international design competition together with the foundation through China Ocean Development Foundation. Second, Academician Rougerie and his team could participate in the design of the new campus' Cultural Valley and the Lidao Island Coastal Experiment Base. Third, Academician Rougerie could join in the work of cultural and architectural creation and design for the Sanya Ocean Science and Education Innovation Park.  
Academician Rougerie fully agreed with President Yu's views on the design of the new campus. He gave an introduction to the Jacques Rougerie Foundation, and showed his major works over the past four decades. He thanked OUC for the trust in him and said that his team would strive to produce a work that would meet the expectations of both parties.
Assistant President Yu Li shared with the guests the latest progress of the construction of the new campus. Prof. Yang Hua, director of the Department of Electronic Engineering of the College of Information Science and Engineering, gave an overview of OUC's cooperation with partner institutions in France to build the China-France Marine Electronic Engineering Center.