On October 23, Prof. Nor Aieni Mokhtar, former Vice Chancellor of Universiti Malaysia Terengganu (UMT), visited Ocean University of China and met with Prof. Yu Zhigang, President of OUC.
Prof. Yu Zhigang expressed his thanks to Prof. Nor Aieni Mokhtar for her efforts in promoting collaboration between OUC and UMT. He commented on the progress that the two sides made together in areas such as coastal zone management, climate change, and sustainable utilization of marine resources. He expressed his hope for further enhancing collaborative research, and student and faculty exchanges.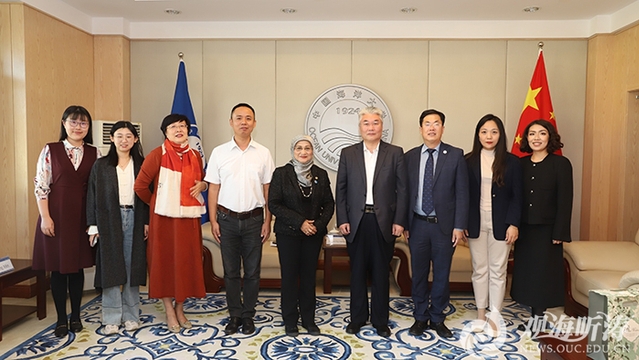 Prof. Nor Aieni Mokhtar agreed with Prof. Yu on furthering student and faculty exchanges, and collaborative research. She looks forward to expanding practical cooperation between the two sides by leveraging important platforms such as the OUC-UMT Joint Center on Marine Studies and the UN Ocean Decade, in order to promote innovative development in marine research and enhance cooperation in marine education and research between China and Malaysia.