National Engineering Research Center For Marine Drug was approved and established in January, 1996 by Ministry of Science and Technology.It operatedofficially after being checked and accepted by MOST in August, 1999.
Supporting Organization: Ocean University of China
Director of the Research Center: Academician Guan Huashi
Profile of the Director:Guan Huashi, professor and Doctoral Supervisor of Ocean University of China; Dean ofSchool of Medicine and Pharmaceutics ; Director of National Engineering Research Centerfor Marine Drug; Ex-president of Ocean University of China.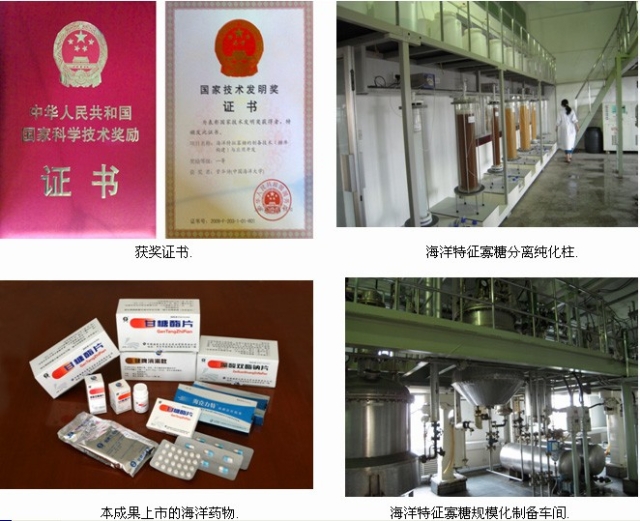 Aims of the Research Center
To isolate and extract marine active substances that have already existed; to assemble and integrate synthetictechniques and semi-synthetic techniques as well as to make them well-equipped. Based upon this, further studies on the technology of developing marine drugs and related series of products are carried out to make them widely used in industries as marine pharmaceuticals, functional health food from marine organisms, daily chemical products from marine organisms and marine organism enzymes,etc. to acceleratethe process of industrialization of marine drug and facilitate the development of marine pharmaceutics and its related industries.
System of the Research Center
Technology system of extraction and isolation from marine organism active substances; technology system of artificial synthesis of natural marine product of chemical modification and active substances; technology system of cultivation, concentration and collection of micro-algae for pharmaceutical use.
Future Development of the Research Center
To develop the Research Center into a pilot experiment base and radiation source for marine drugs' research and development in China.
To become the bridge between scientific and research organizations and manufacturing corporations in order to make the scientific and technological achievements industrialized
To become the core training base for talents of engineering in related field in our country.
Currently there are 47 employees in The Research Center, including one academician from Chinese Academy of Engineering; 11 professors with senior technical titles. The team is led by academician and formed by researchers with profoundknowledge in theory and technology in Research and Development for marine drugs and marine organisms.
After years of construction and development, with the support from School of Medicine and Pharmaceutics and Ocean University of China, the Center has enhanced the engineering research platform and the building of the research team and its management system and operation system have been perfected in recent years. The engineering research and pilot experiment ability are greatly increased with a series of achievements in marine R&D for marine drugs and marine organisms' products. By the end of 2013, the Research Center has undertaken or participated in 18 State-level subjects; 17 provincial-level subjects; 24 consigned subjects from enterprises and public institutions. 17 patents have been obtained and12 Enterprise Quality Standards have beenformulated.