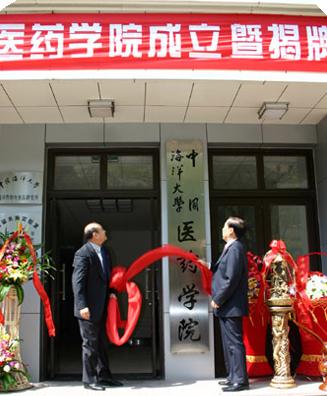 Our school was evolved from the Marine Drug Laboratory of Fishery Department, Shandong College of Oceanography in 1980. It is recognized as one of thepioneers specialized in research and development of marine drugs in China as well as in education of future generations of marine drug scientists after 34 years of concerted effort of our faculty and staff. Since 1985, our school has developed and commercialized four marine drugs, we have generated the world's first biologically active marine oligo- and polysaccharide data bank, and we are also in charge of China's first marine drug journal. As a result, our school is among a few to be selected by the Ocean University of China to get extra support by the Projects "211" and "985". Our school is also honored to be a primary member of the Center for New Drug Development in Shandong Province under National Comprehensive Drug Development & Technology Platform.

Our faculty and staff enthusiastically embrace its responsibility to train the next generation of marine drug scientists. We have 20 professors, 17 associated professors, 36 instructors plus staff members. 65% of our professors are either trained or have worked abroad. In 2009, we were named "An Outstanding Innovation Team of Marine Drug Research and Development" by both Shandong Province and the Ministry of Education in China. Currently, our team hasone Chinese Academician, one Taishan Scholar, one Green Card Talent, five New Century Excellent Talents, one National High-Tech R&D Program (863) specialist;one expert in the 13th committee of Natural Science Foundation of China,one outstanding young expert of Shandong Province;and two outstanding specialists honorably paid by the Chinese State Council.
The major components of our school are educational disciplines, research laboratories, and core facilities, which include Shandong Provincial Key Disciplines of Medicinal Chemistry, Shandong Provincial Key Laboratory of Glycoscience & Glycotechnology, National Research and Technology Center for Marine Drug Development, and others. Our 7800 m2 laboratories are fully supported by our shared core facilities equipped with advanced instruments worth over 73 million Chinese Yuans, such as NMR(JNM-ECP 600), capillary HPLC coupled MS(LTQ-Orbitrap XL), Confocal Microscope(LSM510), Flow Cytometer(FACS.VAN.TAGE).
The graduate program in marine drugs was started in 1991. Marine drug pharmacy is our specialty in undergraduate education. The major under such name is approved as the first in China by the Ministry of Education in1994. It became a professional brand name in Shandong Province in 2007, and further became a specialty major honored by the Ministry of Education in 2009. Approved by the Academic Degrees Committeeof the State Council in1998,we started to have master degree program in pharmacy and postdoctoral trainees in marine drugs at the same year. We added master degree program in pharmaceutical chemistry in 2000. We were approved to establish a Ph.D. program in pharmaceutical chemistry in 2003;to establish a Ph.D. program in pharmacy in 2005. The Master degree in Pharmacy as primary discipline was passed national qualification in 2006. We started to have post-doctoral training station in 2007. The Ph.D degree in Pharmacy as primary discipline was passed national qualification in 2011. At present time, a relatively complete talent cultivating system specialized in marine drug education is all in place. As a result, our school has been ranked among top 10 in schools of Pharmacy in China from 2007-2012 by Discipline Ranking Organization of our government.
From 2009 to 2013, our school has taken on more than 120 research projects with over 1.1 billion funding by a variety of research programs, such as "973", "863", National Key Scientific and Technological Research Programs, National Outstanding Youth Foundation and National Natural Science Foundation. We have published over 421 SCI indexed research articles with 135 of them have impact factors over 3.0. Thirty eight patents have received authorizations. We have compiled and published an encyclopedia "Chinese Marine Materia Medica (CMMM)", which has 9 volumes with over 1.4 million Chinese characters. We have also written and published several text books, such as "Marine Drugs" and "Pharmacology of Carbohydrate-based Drugs". Based on the achievement, our school is selected to be one of the main units of the Laboratory of National Marine Science and Technology.
The first modern marine drug, Polyalginate Sulfate Sodium (PSS), was developed by our school in 1985. It is still one of the kind in the world and remains to be a popular drug for preventing thrombosis available in almost every drug store in China. Another three marine drugs, Propylene Glycol Mannate Sulfate (PGMS), "Gantangzhi", "Hailite", were also approved, produced, and used clinically soon after. Now, we have four new drug candidates, anti-AIDS drug candidate "Bolishazi", anti-cerebral ischemia drug candidate "D-Jiuganzhi", anti-atherosclerotic drug candidate "Jidingtangzhi", and anti-Alzheimer's drug candidate "971", at different stages of clinical trials. Among them, the anti-Alzheimer's drug candidate (971) has been transferred to the Sinova Specialties Inc. in the US with a transfer fee of $81.0 million. This is the first marine drug candidate transferred to a foreign pharmaceutical company with the highest transferring fee that had been seen in China. We also have three marine drug candidates in pre-clinical studies: the anti-Type II diabetes drug HS203, anti-tumor drugs ACT-007 and MDS-10. Our marine drug studies have led to more than 10 big awards in China including the National Science and Technology Award, National Science and Technology Progress Award, Shandong Province Science and Technology Award and other provincial and ministerial level scientific and technological awards. The world's first biologically active marine oligo- and polysaccharide library we established led to the biggest honor of all: we won the gold-level State technological Invention award in 2009.
We believe that scientific exchange and research collaboration are essential not only for our education program but also for marine drug development. Over the years, we have invited many famous scientists to give seminars at our school. We have established collaborative relationships with over 20 colleges, universities or academic institutions both in China and abroad such as joint degree program, staff/student exchange program, joint research program, and resource sharing program. Our collaborators include: Institute of Chinese Materia Medica, China Academy of Chinese Medical Sciences, Shanghai Institute of Materia Medica (SIMM), Chinese Academy of Sciences, Shanghai Institute of Organic Chemistry, Kunming Institute of Botany of the Chinese Academy of Sciences (KIB/CAS), Academy of Military Medical Sciences, Beijing University School of Pharmacy, Fudan University School of Pharmacy, China Pharmaceutical University, Shenyang Pharmaceutical University, Tianjin University of Traditional Chinese Medicine , Shanghai University of Traditional Chinese Medicine, University of Michigan,Rensselaer Polytechnic Institute in USA, London Imperial College, McGill University in Canada, University of Duesseldorf in Germany, Brest University in France, Roskilde University in Denmark, and many others.
Welcome to our School and let's develop more marine drugs together!