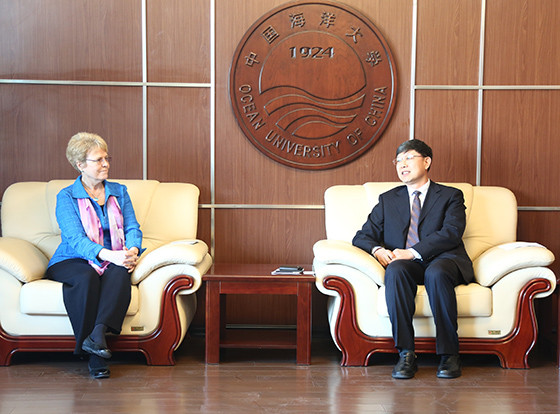 Vice president Li (R) talks with Dr. Jane Lubchenco
Prof. Li Weiran, Vice President of the Ocean University of China (OUC), met with Dr. Jane Lubchenco, former National Oceanic and Atmospheric Administration (NOAA) administrator, U.S. Science Envoy for the Ocean on March 23, 2016, at Laoshan campus to discuss issues concerning cooperation and exchanges in marine-related fields.
Vice President Li Weiran welcomed Dr. Jane Lubchenco and gave the guest an overview of OUC, saying that since the establishment of cooperative relations with quite a few institutions of marine research and education, OUC has had an incredible run of success in joint research and educational programs as well as cultural exchange.
"30 years ago, OUC had some cooperative research projects with Oregon State University, where you currently work as a faculty member." Vice President Li told Dr. Lubchenco.
"Your visit gives us a good opportunity to further broaden mutual cooperation, based on the partnership we have established," he added.
Dr. Lubchenco extended her thanks for the warm reception and echoed VP Li, saying that she is willing to push forward the cooperation between OUC and NOAA in terms of global climate change, interactions between ocean and atmosphere, utilization and protection of marine resources. Dr. Lubchenco also expressed her wish to strengthen collaboration in marine education and work together to find new ways to train more creative students in the context of globalization.
During the meeting, Prof. Guan Changlong, dean of College of Oceanic and Atmospheric Sciences, briefed on the research of oceanography at OUC. Mr. Li Weidong, deputy director of the International Office told the guests about OUC's partner institutions in the U.S. and collaborative programs with them.
Staff of the US Embassy in Beijing and representatives of OUC's Office for Science and Technology were also present at the meeting.
Translated by Daisy PAN
Proofread by William ZOU