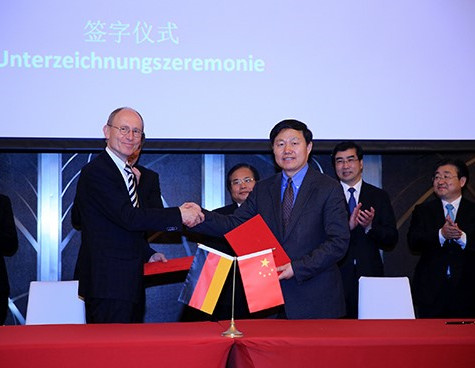 Vice President Li Huajun shakes hands with Rector Piper after signing the MoU
Prof. Li Huajun, Vice President of the Ocean University of China (OUC) welcomed a group of visiting guests from Oldenburg, including Mr. Jurgen Krogmann, Mayor of Oldenburg, and Prof. Michael Piper, Rector of University of Oldenburg, on April 8th, 2016. The German delegation came to OUC's Laoshan campus to seek opportunities of cooperation between OUC and University of Oldenburg.
Vice President Li gave the visitors an overview of OUC and its cooperative programs with well-known universities and research institutes in Germany, especially the academic achievement made through the facilitation of the Center for Sino-German Cooperation in Marine Sciences (SGMS).
"I hope our two sides can start collaboration from marine-related areas and step by step, we may extend our joint efforts into other fields," VP Li said, adding the good thing is that OUC has laid a solid foundation for cooperation with German universities, and that University of Oldenburg has been playing an increasingly important role in marine science and education in Germany.
During the meeting, representatives from the International Office, the Graduate School and the SGMS respectively gave a more detailed presentation about OUC, degree programs at the graduate level and the collaboration with German universities, as well as the proposed Sino-German Graduate School of Marine Sciences.
Rector Piper also gave an introduction to University of Oldenburg, focusing on the marine-related area at his institution. "We are ready to cooperate with OUC and keen on the Sino-German Graduate School of Marine Sciences," he said, adding there are potentials for collaboration in other fields beyond marine-related areas.
After the meeting at OUC, VP Li and Rector Piper came to the Westin Hotel where they signed the MoU for Cooperation between OUC and University of Oldenburg. The signing ceremony was witnessed by Mr. Zhang Xinqi, Mayor of Qingdao, and Mr. Krogmann, Mayor of Oldenburg.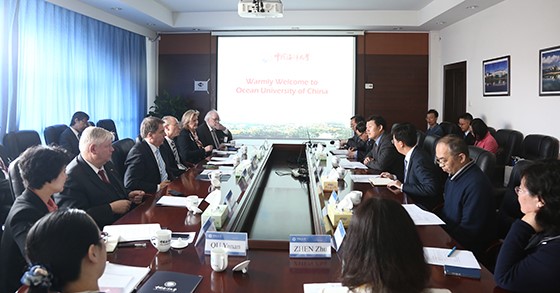 Meeting at the Laoshan campus of OUC
Translated by Alan DU
Proofread by Jessica YANG and William ZOU