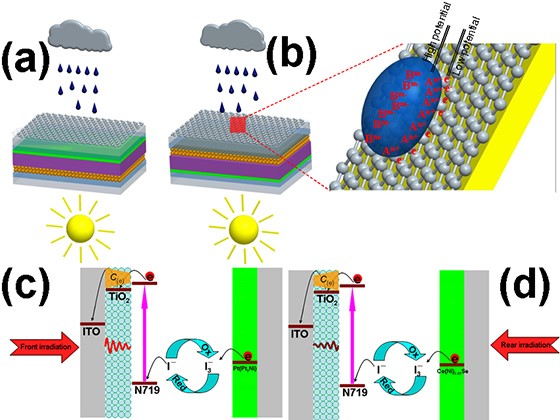 The structural representation of solar cells on rainy days
Prof. Tang Qunwei, a research fellow with the Institute of Material Science and Engineering of Ocean University of China (OUC) published as the first author a research paper introducing in details an innovative solar panel technology that could turn raindrops into electric power.
The academic paper was carried in the latest issue of in the Angewandte Chemie journal based in Germany.
This research finding has not only been thought highly of by the fellow scientists of the same field from home and abroad, but also exerted significant influence on the photovoltaic power industry.
The utilization of the solar power is restricted by the weather uncertainty, although the renewable energy is clean and thus it is becoming increasingly popular. The research team led by Prof. Tang Qunwei from Ocean University of China and Prof. Yang Peizhi from Yunnan Normal University developed a new type of solar cell made of graphene, making it possible to produce solar power on rainy days.
"Solar energy researchers used to look more at how to utilize and convert the solar energy in a more effective way. But now the success in the development of graphene solar cell has led to a major progress in the utilization of clean energy characterized by the solar energy and also laid a foundation for the development of 'all weather solar cells'," Prof. Tang said.
This finding will help to extend the potential power generation period of solar cells, making it possible to produce electricity not only in the abundant rainfall areas with less solar energy resources, but also in acid rain-prone areas as well as the power supply on the islands and reefs, Prof. Tang said, adding that it can also be used in marine navigation.
Prof. Tang Qunwei arrived at OUC in 2012 as a topnotch young professional thanks to the university's Young Talent Program. His research interests range from dye-sensitized solar cells and seawater hydrogen production. Over the past five years, he has published more than 120 SCI papers in Angewandte Chemie International Edition and Advanced Materials as the first or corresponding author. This research project on graphene solar cells has been funded by National Natural Science Foundation, Natural Science Foundation of Shandong Province and OUC's Young Talent Program.

Schematic diagram of the electricalsignal
Translated by Sam ZHENG
Proofread by William ZOU