A signing ceremony of the MoU for Cooperation between Ocean University of China (OUC) and the Jenderal Soedirman University (Universitas Jenderal Soedirman, UNSOED) was held at UNSOED, Indonesia on April 25th, 2016. Dr. Achmad Iqbal, the rector of UNSOED, welcomed a small delegation from OUC.
In the speech, Rector Achmad Iqbal said that he would like to take the signing of the MoU for Cooperation as an opportunity to enhance the exchanges and cooperation between the two universities, especially in marine-related areas, in order to further promote the development of marine science and education in Indonesia. Mr. Li Weidong, deputy director from the International Office of OUC, presented the MoU for Cooperation signed by OUC Vice President Li Huajun and conveyed the best regards from the top leaders of OUC before he gave an overview of the university.
The establishment of cooperation between OUC and UNSOED is a specific action taken by OUC to seize the strategic opportunity of the "One Belt, One Road" Initiative to carry out substantive collaboration in such areas as oceanography and fisheries with the science and educational institutions in the ASEAN countries. The signing of the MoU with UNSOED marks the beginning of cooperation between OUC and other Indonesian colleges and universities. The OUC delegation also had meeting with the representatives from Faculty of Fishery and Oceanology, Faculty of Economics and Business at UNSOED to discuss possibilities of collaboration.
To promote the implementation of "China-ASEAN Joint Research and Promotion Center for Mariculture Technology", a China-ASEAN maritime cooperation program, the visiting delegation, together with a delegation of the Chinese Association of Seaweed Industry, visited ARLI and some research institutions in South Sulawesi Province, which is the largest fishery and seaweed production area in Indonesia. They also had a discussion with Indonesian Coordinating Ministry for the Economy and the representatives from South Sulawesi Province on the establishment of a collaborative center for seaweed research and technology promotion in a bid to contribute to the national strategy of "One Belt, One Road" Initiative and promote friendly exchanges and collaboration between China and Indonesia.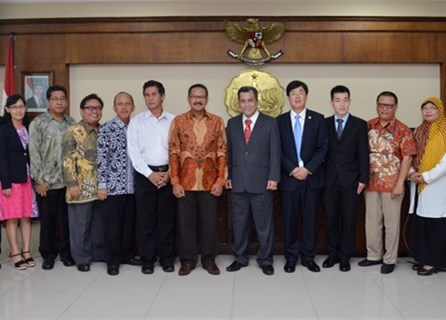 Participants pose for a group photo after the meeting
Translated by Vivienne YAN and Krystal DUAN
Proofread by Richard Holloman and William ZOU