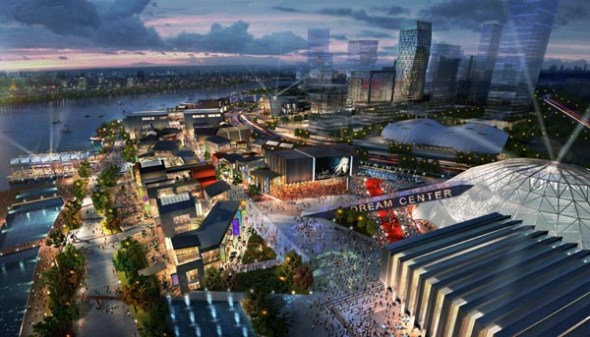 The Dream Center is expected to be completed in 2017 and will consist of 12 cultural venues, interconnected by eight themed plazas and a riverfront promenade. Provided to China Daily
Former factories in Shanghai are set to be transformed into a cultural and entertainment center that aims to be a hub of creative life in the city.
Co-funded by California-based Dreamworks Animation SKG, Shanghai-based CMC Capital Partners and Hong Kong entertainment giant Lan Kwai Fong Group, the Dream Center is set to become a new landmark in Shanghai along the west bank of the Huangpu River.
It will cover some 463,000 square meters. Construction on the center will begin this year and is expected to be completed in 2017.
The Dream Center will be made up of 12 creative and cultural buildings, which are repurposed from former cement factories or shipyards.
They will feature theaters, music halls, artists' workshops, the headquarters of Oriental Dreamworks and a 500-seat IMAX cinema specially designed for premieres and red-carpet ceremonies.
A Lan Kwai Fong lifestyle neighborhood featuring restaurants, bars and retailers, together with eight outdoor themed plazas, will become the main axis of the west bank area of the Huangpu River.
Allan Zeman, founder of Lan Kwai Fong Group, gathered 15 architects from China and abroad to help develop the neighborhood. Zeman and his team not only want to add a unique flavor to the neighborhood, but also to bring in design that "will help to feed the creativity".
Xuhui district, where the center is located, has pretty views of waterways and a good transportation system. A media hub is also planned for the site that Zeman believes will attract people to work, live, play and ultimately create a culture.
"Creative people feed off one another. The idea is really to have a place with local characteristics. We don't want to copy New York or London. We want the Dream Center to have its own unique style and look. Shanghai is such an important city not only for China but in the world, as it's one of the top romantic cities in the world. It will enhance the attractiveness of Shanghai that is already there," Zeman says.