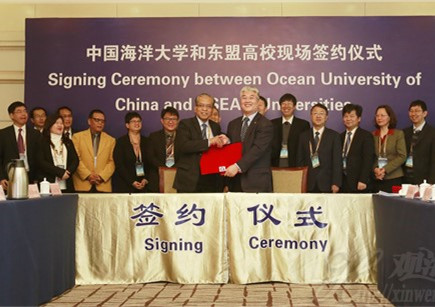 On April 12-13, 2017, China-ASEAN FEN President Forum and the Workshop on Marine and Aquatic Technology were held in Qingdao under the auspices of OUC, ASEAN Fishery Education Network, China-ASEAN Joint Center for Research and Promotion of Mariculture, Qingdao Municipal Government and China-ASEAN Center. It is the first time for Qingdao to see such event on fisheries science and education cooperation along the Maritime Silk Road and on promoting the education action plan in line with the Belt and Road Initiative.
By exchanging ideas and reaching consensus, the meeting focused on the Joint Consultation, Construction and Sharing of the Innovation on China-ASEAN Fisheries Science and Education to strengthen and expand the cooperation among China-ASEAN Marine Science and Education Institutions, turning a new page in the development of the cooperation. Present at the meeting were over 120 experts and scholars from 20 institutions from Indonesia, Malaysia, Thailand, Philippines, Viet Nam, Cambodia, Laos and Myanmar, as well as the international organizations and universities of China.
Present at the opening ceremony were Zhang Deping, Vice Mayor of Qingdao Municipal Government, Sukree Hajjsamae, Chairman of ASEAN Fisheries Education Network, Mr. Zhou Wu, representative of China-ASEAN Center Secretariat, and OUC President Yu Zhigang. OUC Vice President Li Huajun chaired the opening ceremony. Prof. Patrick Sorgeloos of Ghent University, Director of International Cooperation of EU Innovation Platform for Fisheries Innovation, and the winner of Chinese Government's Friendship Award, addressed the meeting via video due to his tight schedule.
Three proposals were put forward by OUC President Yu Zhigang, Chairman of the meeting, on better cooperation in fisheries education, research and technology for upgrading the innovative capacity building. First, to improve the cooperation mechanism of ASEAN FEN, a very good collaborative platform since 2011. OUC started all-round cooperation with ASEAN FEN in 2016 when MOU was signed between OUC and ASEAN FEN. The President Forum and the Workshop well contributed to the cooperation and more practical models were to be explored. Second, to seek solid and substantial effect from the cooperation in marine and fisheries areas by forging successful cooperation projects that cover more areas like curriculum setup, exchange of students and young scholars, technical training, research infrastructure construction and international cooperation on science and technology. Third, to launch international cooperation on administration, industry, academics and research to promote China-ASEAN cooperation on marine economy development, which will be stressed in China-ASEAN cooperation on the basis of enhancing the education and innovation of fisheries sciences in the related universities and institutions by pooling the governmental and social resources, strengthening the collaborative innovation and boosting the transfer of research results for the local economic and social development.
23 reports were delivered in the President Forum on marine and fisheries education, research and industry by ASEAN universities like University Malaysia Terengganu, University of Malaya, Kasetsart University of Thailand, Jenderal Soedirman University of Indonesia and Visayas University of Philippines. On the latest research results of aquaculture as well as how the education, research and international cooperation are conducted in China's leading university, Prof. Li Huajun, OUC Vice President, and Prof. Li Qi, Dean of OUC Fisheries College, made reports respectively titled Exploring the Internationalization of OUC in the Backdrop of Belt and Road Initiative, and Fisheries Education and Research at Ocean University of China. The keynote sessions were chaired respectively by Dr. Aieni Binti Haji Mokhtar, Executive President of University Malaysia Terengganu, Dr. Yeong Yik Sung, Secretary-General of ASEAN FEN, Prof. Xue Changhu, OUC College of Food Science and Engineering and Prof. Wang Min, Deputy Dean of OUC College of Marine Life Sciences.
In the Workshop on Marine and Aquatic Technology, experts initiated and reached consensus on China-ASEAN education of high level talents and joint development of science and technology, in addition to exchanging ideas on such issues as the Mechanisms and Proposals for EU-China and EU-ASEAN Fisheries Cooperation; Strategies, Collaboration Effort and Roles of ASEAN Fisheries Network (ASEAN FEN) in EURASTIP, Horizon 2020 Grant; Intercollegiate Alliance on Protecting Aquatic biodiversity; and to initiate China-ASEAN Mariculture Collaboration network.
During the meeting, OUC signed the cooperation agreements with many ASEAN universities like University Diponegoro and Bogor Agricultural University of Indonesia, as well as Visayas University of Philippines. The program for young scholars to do research and academic study in China and the international training program on sustainable mariculture technology were launched to find out how to jointly educate ASEAN young scientists and develop science and technology with a number of stakeholders involved. OUC also convened the annual work meeting of ASEAN FEN.
Translated by Liang Hong.