On April 18, 2019, the Uruguay delegation led by Dr. María Julia Muñoz, Uruguayan Minister of Education and Culture visted Ocean University of China (OUC). The delegation also consisted of Fernando Lugris, Ambassador of Uruguay to China, Eduardo Manta, Director of Science and Technology Department of the President's Office of Uruguay, Álvaro Mombrú, Vice President of the University of the Republic (Uruguay) and Rodolfo Silveira, Member of the University Council of the University of Science and Technology of Uruguay. Dr. Tian Hui, Chairman of OUC's University Council and Vice President Li Huajun met with the guests. The two sides discussed possibilities of developing blue economy, promoting mutual visits among teachers and students and advancing cultural exchanges.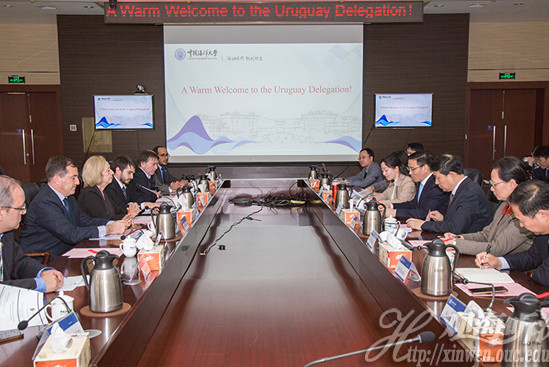 After extending a warm welcome to the delegation, Dr. Tian Hui said that OUC, the only comprehensive, research-oriented university with particular strengths in oceanography and fisheries in China, had attached great importance to international cooperation, and that it signed an agreement of cooperation and established cooperative ties with the University of the Republic (Uruguay) as early as 2009. He pointed out that to better develop marine economy, and to better use and protect the oceans is the shared hope of coastal countries. OUC would continue to expand cooperation areas with the University of the Republic (Uruguay) and other marine-related institutions.
Dr. María Julia Muñoz expressed her thanks for the warm welcome. She said that Uruguay, a country with rich marine resources and the first South American country to join the Belt and Road Initiative, looked forward to deepening cooperation with OUC in talent cultivation and research in marine biology, marine environmental protection and the sustainable development of marine resources.
mbassador Fernando Lugris sang high praise for the cooperation achievements made by China and Uruguay in economy, culture and education. He said that he would continue to facilitate the cooperation between higher education and research institutions in Uruguay and OUC. Vice President Álvaro Mombrú and Mr. Rodolfo Silveira gave an overview of their universities' disciplinary strengths and features, respectively, and expressed their wish to establish cooperative relationship with OUC in marine-related research.
The meeting was also attended by Wang Xiangyu, Deputy Director of Qingdao Municipal Foreign Affairs Office, and representatives from OUC's President's Office, Educational Administration Office, Division of Science and Technology, Office for Social Sciences, International Office and School of International Education.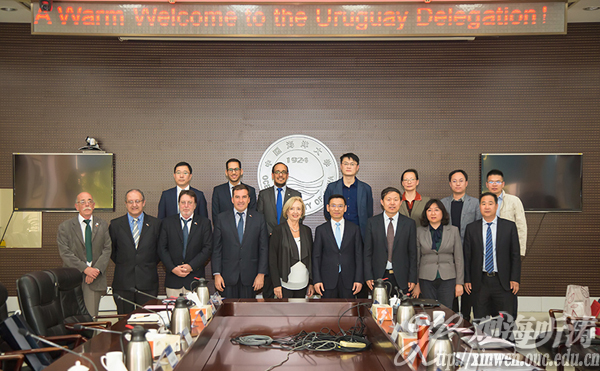 On the signing ceremony of cooperation projects between Qingdao Municipal Government and Uruguay later, Dr. Tian Hui signed the MoU with the University of the Republic (Uruguay) on behalf of OUC.