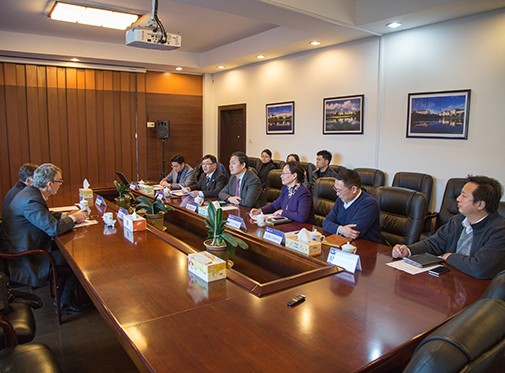 Ocean University of China (OUC)was delighted to meet with the delegation of Texas A& M University (TAMU)at the Laoshan Campus on Dec. 9, 2015. Prof. LI Huajun, Vice President of OUC for International Relations welcomed Dr. Randy Kluver, Head of Department of Communication & Director of Confucius Institute and Robert Shandley, Head of Department of International Studiesat TAMU.
In his welcoming speech, Vice President Li said OUC attached great importance to the relationship with TAMUas well as the China Studies program, and much progress in academic exchanges and reciprocal visits has been made. "Based on the achievements we have made, we will seek more opportunities for future exchanges and cooperation", said Vice President Li.
Dr. Randy Kluver reviewed the activities held by the Confucius Institute in 2015 and put forward what will be done in 2016.He said more and more Americans are becoming interested in Chinese language and culture, thanks to the international exchange and media in Chinese. He also mentioned the challenges TAMU is facing now, saying both TAMU and OUC need to work together to overcome the challenges.
After the meeting with Vice President Li, Dr. Kluver gave an academic talk at the College of Liberal arts, Journalism and Communication.
In his lecture, Dr. Kluver analyzed from different perspectives the Chinese media coverage of several key issues including "China Dream","China Threat", "Soft Power" and "New Style Great Power Relations" in an effort to uncover key frames and cultural scripts that are likely to shape potential geopolitical relationship in the region, and to identify implications for these narratives for future geopolitics relations with other nations.
Dr. Kluver pointed out that the purpose of media analysis is to minimize conflict, to make nations come to understand "how the world looks" to rivals, competitors, and even allies, to develop common cooperative narratives instead of misunderstanding and antithesis.
Questions were asked, one after another, including the relationship between China and the U. S, and how the Americans understand China's foreign policies. The lecture was concluded after a lively discussion and interaction.
Translated by Liu Yuanhang and Sam Zheng
Proofread by William ZOU