From September 27 to 28, 2018, President Yu Zhigang of Ocean University of China (OUC), at the invitation of Taras Shevchenko National University of Kyiv (TSNUK) and the National Technical University of Ukraine (NTUU), led a delegation to these two famous universities in Ukraine, to expand cooperation along the Belt and Road and to explore ways to develop and share high-quality higher education resources.
In TSNUK, the delegation was warmly welcomed by Prof. Petro Bekh, Vice Rector of International Relations. Mr. Bekh gave an overview of TSNUK's history, present situation, characteristics and its cooperation with Chinese institutions. The meeting was also attended by Prof. Yurii M. Teslia, Dean of the Faculty of Information Technology, Prof. Andrii O. Biloshchytskyi, Director of the Department of Information System and Technology, and Mr. Andrii O. Kravchenko, Director of the Office of International Cooperation.

President Yu expressed his thanks for the warm welcome. He noted that, with a long history and well-respected academic background, TSNUK, the Ukraine's best university, had cultivated many outstanding alumni, and had made influential achievements in core disciplines such as mathematics, physics and information science. He said that OUC was looking forward to cooperating with such a top university. To this end, OUC will establish a long-term cooperation mechanism, and encourage the professors of the two universities to exchange and collaborate in their areas of common interest. Song Wenhong, Director of the International Office, and Wei Zhiqiang, Dean of OUC's College of Information Science and Engineering, gave an overview of the international exchange and cooperation at OUC, and the research and talent cultivation at the college respectively. They hoped that the exchange of teachers and students could promote cooperation on a regular basis.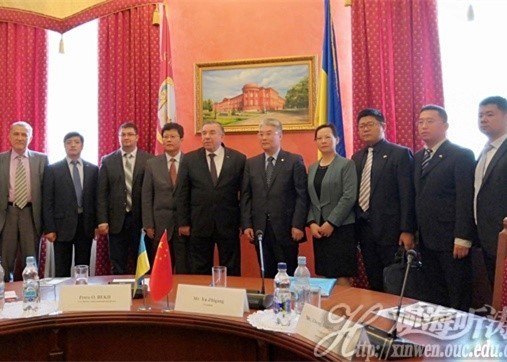 At NTUU, the delegation was warmly welcomed by Vice Rector Sergey Sidorenko,corresponding member of the Ukrainian National Academy of Sciences and Executive Manager of International Relations. He gave an overview of NUTT's history, disciplines, outstanding alumni and the plans in line with Ukraine's strategic development.
President Yu expressed his appreciation for these plans, which are conducive to the Ukraine's socio-economic development. He said that OUC, as a comprehensive university featuring strengths in oceanography and fisheries, also engaged with the local marine economy and social development. NTUU is the best university for science and engineering in the Ukraine, with a worldwide reputation for its research in the fields of fundamental sciences, chemical engineering, biotechnology and electromechanical engineering. President Yu hoped that the two universities could conduct cooperative research and educational exchanges, especially in the areas of mechanical and electrical engineering, environmental science and engineering, mathematics and information science, biotechnology, and food science. He also hoped that joint efforts could be made to establish a Confucius institute (OUC has extensive experience in this regard), to promote comprehensive collaboration.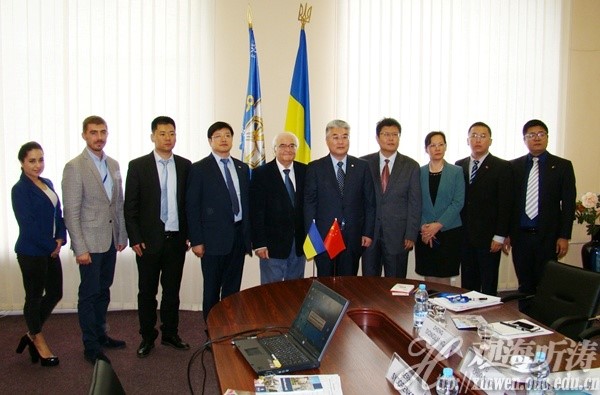 During his visit to Ukraine, Dean Wei Zhiqiang was invited to give a report entitled Building a Deep-Blue Brain and Serving the Strategy of Maritime Strength to the staff of the Chinese Embassy to Ukraine. Mr. Du Wei, Chinese Ambassador to Ukraine (Extraordinary and Plenipotentiary), met with the delegation and presided over the report. The delegation was also invited to a reception organized by the embassy in honor of the 69th anniversary of the founding of the People's Republic of China. Jiang Wensheng, Dean of OUC's College of Environmental Science and Engineering, Li Yan, Director of Division of Science and Technology and staff from the International Office also joined the visit.